Sat, May 23, 2009
Race: Sapper Joe (19.93 Miles) 03:19:47, Place overall: 4
Total Distance 19.93

3:19:47 - I went to Lehi and stayed at my mom's last night with my family. We stayed up late, as usual, doing whatever. I didn't end up going to bed until almost midnight. I was then up before my alarm at 4:15am. Needless to say, I did not prepare appropriately in the sleep area. I got to on base and to the start building at about 5:20am (I sat in the car and stayed warm for 10 minutes). Once in there I found a nice chair to relax in. Five minutes later Davy came and found me and we chatted for a few minutes. That was really nice, by the way. Thanks Davy, that made me feel quite a bit more comfortable. I was really nervous.
After a quick race introduction we all moved outside to the start line and promptly at 6:05am the cannon went off and so did we. I stayed relatively near the front of the pack, but watched as the elites went off way ahead. Within a block Mojo had found me and we chatted for the next mile or so, until we broke from the main road and headed for the first big hill. It was then that I lost Mojo and didn't see him the rest of the race. I'll spend the rest of the report listing by mile, where relavent.
Mile 1 - 9:05
Mile 2 - 11:30 Our first monster hill that we had to walk. There was a person standing on top of the hill holding a $50 bill for the first person to get there. I was not even close.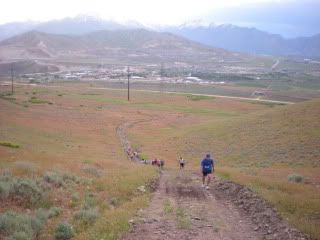 Mile 3 - 10:23 More hills. I was actually able to run a few of these. I was a social butterfly for the first 4 miles. Sorry to anyone I annoyed with my chattiness. I was just having fun.
Mile 4 - 18:10 The last of the monster hills that had to be walked. We finished this mile just before getting to the summit and heading back down the other side.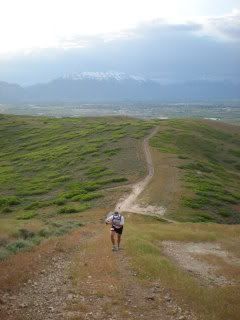 Mile 5 - 9:49 The finish of the big hill and down the other side. This is where I passed a few people and started to break free on my own.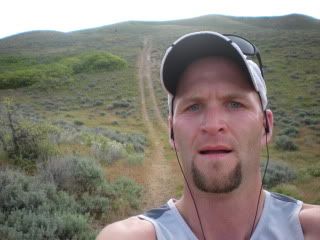 Mile 6 - 8:24 First Aide Station. Davy was there to welcome me, a little surprised by my position. I was surprised too. I was giddy at how much fun I was having. The army people were making fun of me, for good reason. This was the out and back portion, so as I made my way back to the 30k trail I was able to encourage about 10 other runners.
Mile 7 - 10:08 The next several miles just wound up and down and around to Aide Station 2.
Mile 8 - 10:05
Mile 9 - 9:32
Mile 10 - 8:48
Mile 11 - 14:47 Aide Station 2. I stopped a little longer here to fix my right shoe and take a photo with my Army buds.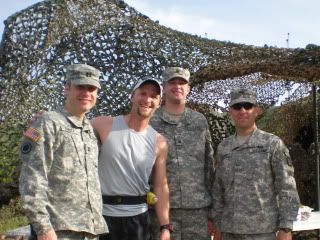 Mile 12 - 12:27 This was a big single track hill that had to be hiked. It was the only single track on the course and was grossly overgrown. Who cares, it was super fun.
Mile 13 - 11:07 Back on the main dirt road and heading up to the top of the last big mountain. A fair amount of walking mixed with running, photos, and taking video. I'm such a dork.
Mile 14 - 8:44 Summitted the last by hill and made my way down to the final aide station.
Mile 15 - 8:53 Aide Station 3. I tried to call my wife to tell her to hurry up because I was going to get to the finish quicker than expected. I borrowed a phone from an Army guy, but couldn't get a signal. Oh, well. Scarfed two more pieces of watermelon and headed down that final hill.
Mile 16 - 7:28 All downhill from here. I still felt great and enjoyed it from here on out. I was lonely though. Hadn't talked to anyone or even seen anyone since Aide Station 1.
Mile 17 - 7:32
Mile 18 - 7:47 Ran into Davy running up to the 3rd aide station. He was nice enough to turn around and run about a quarter mile with me back down. It was nice to chat and really motivated me to push to the finish. Once again, thanks Davy.
Mile 19 - 7:56 I can see the base from here. I was so excited.
Mile 20 - 7:12 Cruised to the finish line. My family was walking to the finish line just as I crossed. I was in awe of the fact that I did so well. Not only did I beat my goal time by 11 minutes, but I came in 4th place. Holy cow. 4th place people! I never would have guessed.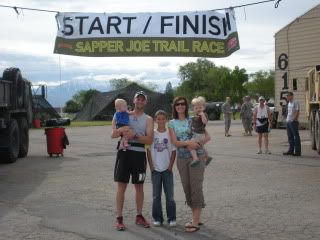 I spent the next 20 minutes eating fruit, taking photos, and cheering people to the finish. It was a fantastic race; beautiful, challenging, and ridiculously fun. Thanks to Davy and Mojo for taking the time to chat with me. It's nice to make new friends and have someone to talk to. I can't wait to try again next year, except I'll go for the 50k.
Ave Pace - 10:01/mile