Saturday, June 13, 2009
Race: Wahsatch Steeplechase
16.33 miles, 3500 ft elevation gain (in the first 7 miles)

2:57:02 (unofficial) - We had great weather considering the threat of ran and lightning that was out there. I got to Memory Grove at about 5:05am and sat in my car for about 10 minutes before venturing down to the starting area. I was one of the first people there, so I was in no hurry. I quickly ran into Craig from Lehi and we got checked in. Not long after Matt from Bountiful showed up and the three of us prepped for the race. I didn't warm up much, just some stretching and about a tenth of a mile to find a bush to relieve myself.
The race started promptly at 6am. I immediately found myself near the back of the 300 racers and decided I better make a bit of a move or going up the trail would be awfully slow. I'll detail the rest of the race mile by mile.
Mile 1 (8:52)- paved road and onto the single-track. I probably passed about 50 runners on the road and another 10 on the trail during this mile. I felt really strong going up hill.
Mile 2 (11:41)- there were some steeper climbs and thanks to several people in front of me I had to walk certain sections even though I didn't want to. I just couldn't get around people like I wanted to.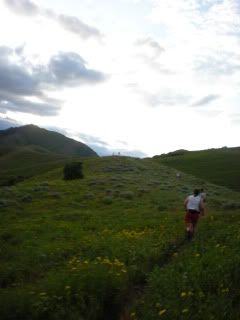 Mile 3 (9:57) - the trail passes Morris Meadow. I've run this section so I was familiar with it. Nice inclines that really were't bad.
Mile 4 (10:31)- Slower section up to and past Twin Peaks. I was able to pass several people in this section. For the next several miles I would leap frog with about 4 different runners.
Mile 5 (11:36)- Working up to the big hill.
Mile 6 (13:09)- the final ridgeline up to the base of Little Black Mountain. I was actually pretty tired at this point. I had taken lots of photos and video though. I'm a dork.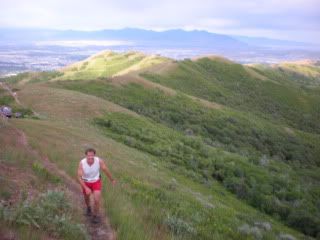 Mile 7 (23:14)- this may be the steepest and longest sustained hill I've run to this point. All walking, all painful, all very tiring. I knew about the false summit, so I wasn't surprised when I got to the top of it and knew I had a little ways to go.
Mile 8 (18:12)- This included the rocky ridgeline on top of the mountain. It was slow going for me only because I had to wait for people to climb down the cliffs. Most of the drops were 6 - 8 ft. I jumped down all of them to everyones surprise. In fact, on the last one I got impatient and just jumped over one of the guys who was downclimbing. He thought it was great.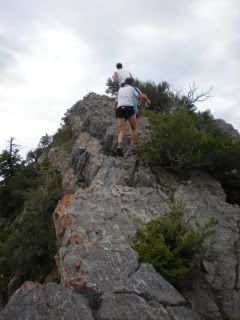 Mile 9 - (11:12)- Making our way down Smuggler's Gap was a mess. It was still a little muddy from yesterday's storm and you couldn't see your feet half the time because the trail was so overgrown. They had ropes set to use as braces to go down, but I didn't use them . . . . and paid for it. I slipped on landed on my butt, hitting my arm on a rock. I ended up with several large scrapes and two deep puncture wounds. Over the next several miles blood would pour down my arm. This would pay off in the long run, but we'll get to that.
Mile 10 (8:32)- back on flatter ground, but still on the trail. We soon came to the road and things picked up after this.
Mile 11 (7:06)- City Creek canyon road. I was moving pretty good and passing people who were cramping or hurt. I felt bad, but not bad enough to stop. I did offer a salt pill to one guy and then realized I had dropped it along the trail. So sorry fella.
Mile 12 (7:15)- more road.
Mile 13 (7:56)- back onto the trail that parallels the road. You had to slow down just because it was narrow running. I was getting a little tired, but felt good overall.
Mile 14 (7:53)- more trail.
Mile 15 (8:33)- there were some uphills in here I didn't like at all. They just made me tired.
Mile 16 (8:18)- back on the road and coming to the bottom of City Creek. I started to get a nasty stitch in my side and it was really slowing me down.
Mile 17 .33 miles (8:57)- here is where my world crashed to a hault. My legs were still strong and my cardio solid, but the stitch in my side had turned into a full-on cramp and I could barely breath. Not only could I not run, but I was just plain getting mad. 6 people passed me and only because of something so stupid as a cramp in my side. I had been drinking a ton of water, I had eaten two gels, and taken two salt pills (one within the last 40 minutes). I actually had to walk for a short distance twice in these last 3 tenths of a mile. I was able to muster just enough of a run to cross the finish line in good form. But I probably lost two minutes overall due to all of that. I still came in under 3 hours, which was my goal so I am very happy overall.
As it turns out, the race director and his daughter saw my blood and vehemently suggested I DO NOT wash it off until they award the Bloodiest Runner award. As it turns out, I WON! Hahahaha. They then threw a bunch of gear out into the crowd. I caught a small backpack made by Black Diamond, a BD LED lantern, and a pair of socks. So awesome!
It was really great to be there with Craig and Matt. I didn't get to see Craigfinish, but Matt came in about 12 minutes after me, looking strong as ever. I also got to meet Fritz (who I feel horrible about not being able to talk to longer, I was focused on the awards being given out). I also got to meet Mark who is a fellow FRB member. It was a fantastic run in great conditions. My legs feel fine and I'm ready to start tackling longer races, I think. I can't wait to start training for something harder.
I have created and posted a video on youtube. Click HERE.