Half Pregnant Half Marathon
Matt and I have been working on this little fun run for some time and were so happy to see it turn out as well as it did. The weather didn't appear to be cooperating like we wanted, but we weren't deterred. We threw this whole thing together for a pregnant friend who wanted to run one last trail race before she was too prego to run at all. As it turned out she was only able to run the 10k at that.
We had a good showing, considering the dodgy weather: Matt VH, Dan V, Josh G, Eric J, Matt W, Amy F, my mom Mary Kay and her friend Deanna, Aaron W, Kameron K, Brent L, Jeremy and Leslie H, and possible a few I might have missed. We built some horrible trophies for the winners and even had
Altra
sponsor us with a pair of shoes for the overall half marathon winner.
We started around 9:30am. There was a ton of wind, but the rain and snow had held off. The previous night's rain and warm temps would have a significant impact on the trail conditions, but not until we were in Corner Canyon. Everyone left at the start while I stayed back to wait for the folks we put this race on for. They showed up about 10 min later and we took off. I immediately went out faster than normal so I could try and catch up (like that was going to happen) and just didn't feel like I had a lot of energy. I quickly passed my mom and her friend who were running the 10k and stopped to chat for a second and take a pic.
My mom, Mary Kay, loving the trails on the 10k
At 1.4 miles you come to the first real climb, a short grunter up steep scree and over a rocky hilltop. I had to stop and remove my pants and the extra shirt I had on and I also left my gloves. That cost me a couple of min and hopes of catching more half marathoners. Continuing on I started to feel my legs come around at about mile 2, but nothing like I felt I needed to do well. I passed Steve and Amy returning from the 10k turn-around and gave them both a high 5 as I passed. I then cruised down the BST into Corner Canyon. Turning up towards the Canyon Hollow Trail it wasn't long before I came up on Aaron, Matt's brother, slogging up the mud. We ran together for a second and chatted and then I pressed on up the single track.
Aaron in the early mud
About half way up Canyon Hollow I finally came upon my brother Brent and my friend Kameron. I was actually surprised to see them running up this section. Brent is a good runner, but not much of a trail runner and has had little experience running up the steep stuff. Just as I was passing him he caught a toe and went down in the mud. Awesome. I then passed Kameron and tried to turn on the jets, but they weren't there, so I just pressed as hard as I could. Once on the Corner Canyon road I again tried to turn it up, but the mud was so thick it was like I had 10 lbs weights on my feet. Finally I got to the Clark's trail head and began my descent.
Brent just after falling in the mud
Yesterday, when I marked the trail Clark's was slightly muddy and pretty icy. Overnight the warm temps melted the ice and left a 1.5 mile mudbog. While others may have hated this section I loved it and opened up my pace to completely out of control. I almost fell three different times and had mud completely covering the backs of my legs. Wow, that was awesome.
The mud aftermath
I made it down into the bottom of Corner Canyon without incident and started the climb back on the BST out of the canyon and back the way we came. Near the top of that section I passed Jeremy Howlett, husband of pregnant Leslie and Altra employee who sponsored us. Thanks Jeremy. With a late start he decided to turn back early so he didn't make everyone wait. What a nice guy. I could see Matt up ahead and made it a goal to try and catch him.
Jeremy running up the BST
It took me a little over a mile, but I was finally within shouting distance and made the mistake of yelling, "Matt, I'm gonna catch your A". That was the motivation he needed and sped up. Dang! Even still I pressed on and found that as I rounded the next corner I had made up some ground. I finally caught him about a quarter mile before the last big climb back over the original first hill. He said he had really hit the wall and was struggling. He let me pass as we crossed the bridge and I pushed slowly up the hill. Going down the other side I collected my discarded clothes and really pushed to the finish. I tried so hard to go under 2 hours and pushed the last mile and a half as much as I could, running faster than I ever have before. Even with that I crossed the line 41 seconds over 2 hours and collapsed on the grass. Josh and Dan were there waiting for me, along with my mom and Deanna. Matt came in a few minutes later followed closely by Matt VH. Kameron came in 5 min after them and then Jeremy, but still no sign of Brent and Aaron. We waited for a while and then I checked my phone. Yep, Brent had gotten lost and left me a voice mail. I called him and he said he got way off course, but was now only a mile from the finish. He and Aaron ended up running about 14.5 miles with over 2200 vert. That is probably the hardest thing Brent has ever run and he crushed it. We all then went back to my house for the best BBQ ever and a couple of hours of hanging out. Thanks to everyone who came to both the race and BBQ or just the BBQ. It was a perfect day. And thanks to Altra for sponsoring us.
Pics.
Matt VH finishing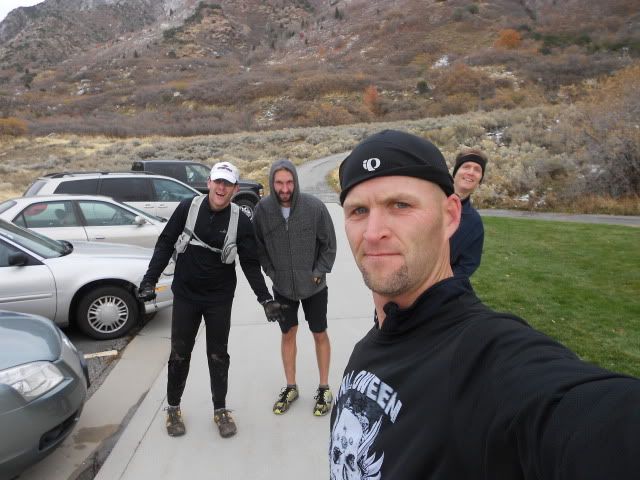 Me and the boys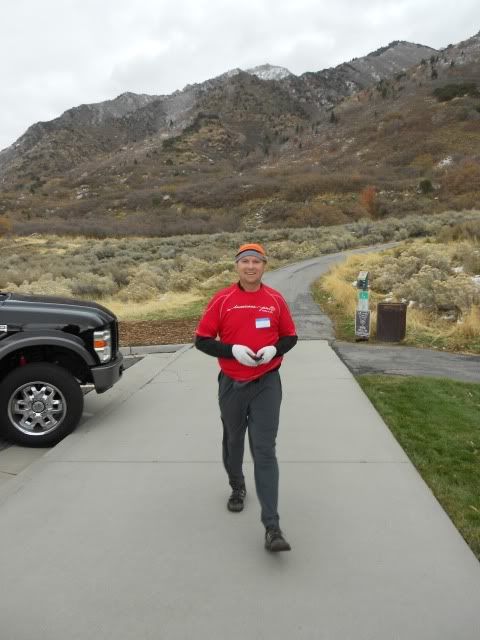 Kameron finishing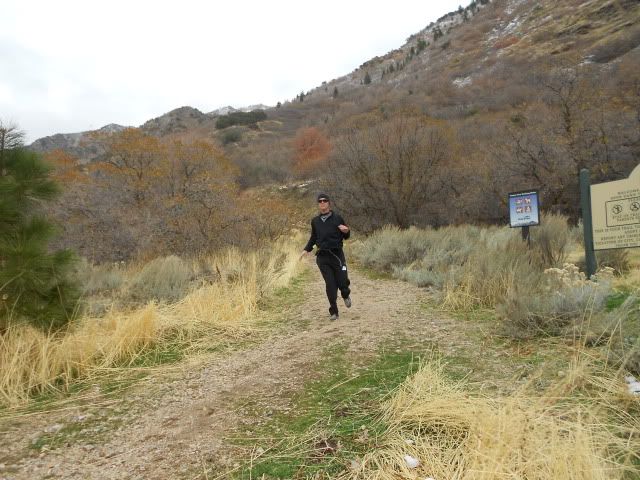 Brent finishing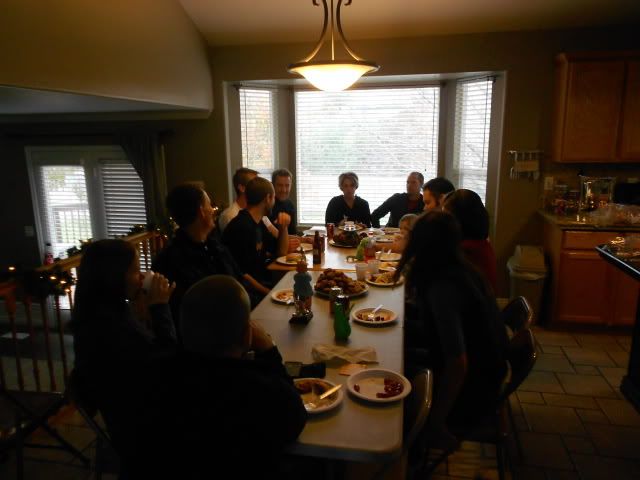 Eric, Catherine, and cute Elliot
The Wesemann's
I'll post results later.