The 2013 Buffalo 100 was a total disaster for me. I complained. I whined. I froze. I limped. I struggled. I did finish, but I was not happy at all with my race and time and knew that I would have a much better race this year.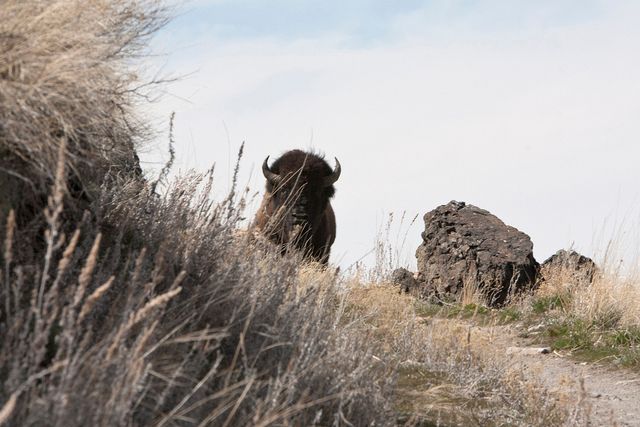 Photo By Lori Burlison
My strategy was simple: Cut out time spent at aid stations, run an hour faster on the front 50 and run everything but the hills on the back 50. I knew by doing this I would shave 2-3 hours off of my time from 2013. I just needed to be more efficient and not allow myself to get lazy.
The first 50 miles went very well. Four front runner guys went out pretty quick and I was with a group of 5-6 runners in the next tier that stayed together for most of the first 14 or so miles. I was able to run with my good friend Jennilyn Eaton for a good chunk of the miles. The group we were in was very quiet, but Jennilyn and I laughed and joked and had a lot of fun and the miles just clicked on by. I thought she would drop me for sure on some of the downhill sections, but I picked up my pace some and she held back a little and it worked out well. I led the group of 5-6 strong runners, including the second place finisher, Tomokazu Ihara up the switchbacks out of the Split Rock valley. I kept waiting for someone to pass, but they must have liked my pace because nobody passed and we finished the switchbacks together.
Photo by: Lori Burlison
I could tell that Jennilyn was struggling the last 5 miles back to the start/finish. We ran with Jeremy Suwinski for some miles and he was pushing a nice pace and looking strong and he eventually dropped us with a few miles to go. At the start/finish (mile 19) Jennilyn sat down right in the dirt and didn't look well. We managed to make the stop pretty quick, but I was feeling bad for her. I have never seen her struggle like that and I was worried.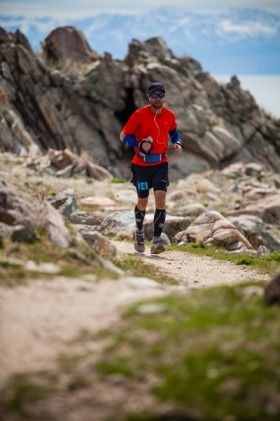 Photo by Derrick Lytle
After the short out and back on the Mountain View trail things only got worse for Jennilyn and eventually I dropped her. My heart sank when I turned around and saw her about 1/4 of a mile back on all fours just off the trail. Turning around and leaving was very hard, but I knew I had to keep running. I felt so bad for her because I knew how hard she had worked. I turned on my iPod for the first time and cranked out the next 12 miles to the ranch by myself. Those were the toughest 12 miles of the front 50 for me. I had a few close encounters with some buffalo, but performing the Craig Lloyd technique of yelling at them like a cowboy seemed to work every time and had them scrambling off the trail. From the ranch back to the Frary aid my heart kept sinking when I wasn't seeing Jennilyn and I thought for sure she had dropped and then she showed up running strong with smile on her face. I told her to catch me and my spirits really picked back up.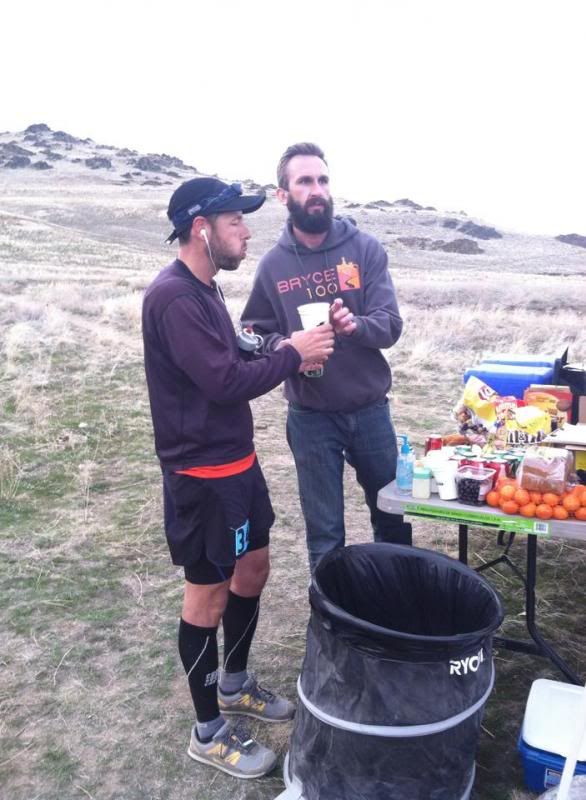 Photo By Kelli Stephenson
I ran by myself for the next several miles. After the Frary aid stop I picked up my mojo and ran really strong back to the Lakeside aid. I ran into Kendall Wimmer and he ran with me for a few minutes and really picked me up. I felt strong and things were going well for me. At the Bridger Bay aid station Erik Storheim was there to take care of me and I quickly downed some Coke and potatoes. I saw a light coming from behind and it was moving very fast. It was Jennilyn and she had caught me after I had been ahead by about 45 minutes and running very strong. Amazing. We ran the last 4 miles together back to the 50 mile mark. It was a real boost to see her doing well and I knew she was going to win the race. I came into the 50 mile mark in 9:12, right where I wanted to be.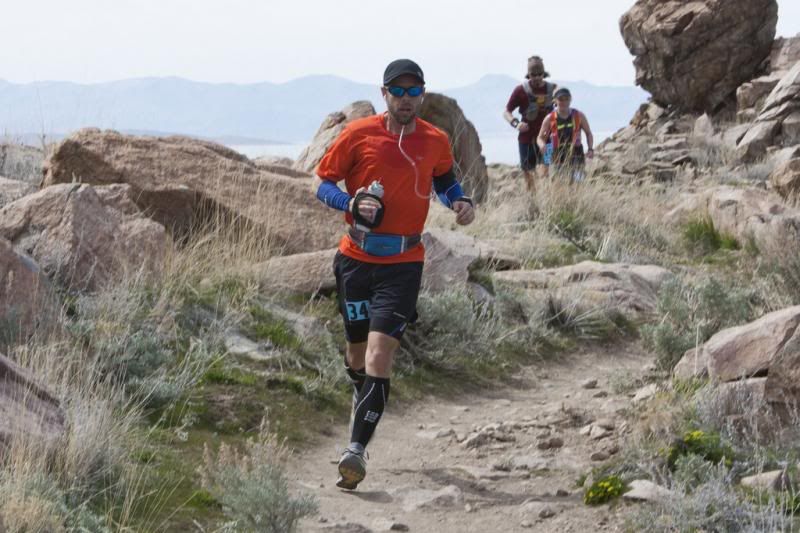 Photo By Lori Burlison
At the start/finish there were several friends there to help me grab what I needed. I took more time than I should have and it was hard to get out of the tent, but I finally did. Rachel Moody paced me the next 19 miles. My stomach had some issues right out of the tent and it took me a few miles to get past that, but the miles flew by as Rachel told me story after story. I was much slower on this loop and hiked just about all of the hills, but ran everything else. Rachel was exactly what I needed during that section and I was feeling great with only 31 miles to go.
My good friend Josh Greenwell paced me from mile 69 to the finish. We did very well keeping my goal of running as much as possible and we made decent time all the way to the turnaround at the ranch (mile 83) where we took a longer break. After the ranch things got tough. I was very tired and ready to be done and it was a total grind back to the Frary aid and it got even worse when the wind picked up and we had to run into it all the way back to the Lakeside aid station. Those were the toughest miles of the whole 100. While hiking the steep hill out of that aid Josh mentioned that we could still go sub 23, but we were going to have to push and it was just the motivation I needed. We pushed it pretty hard all the way to the finish. I blew through the Bridger Bay aid stop and we cranked out some really decent miles to the end. I finished in 22:42 which was good for 14th place and a PR in the distance by almost 3 hours for my 6th 100 mile finish.
Photo by Craig Lloyd