I capped a great week of running as I peak my miles before I start a 2 week taper leading up to the Pony Express 100, 14 days away. I'm getting nervous and very excited for my first 100 miler. Based on how I've run this past week I think I have a shot at doing really well, considering the course and my current fitness level. I'll break down my week by day and you be the judge of whether I've prepared enough or not.
Monday, 9/27
32 miles - I ran out in Cedar Valley. I posted specifics of the run earlier in the week. No need for details here.
Tuesday, 9/28
5.15 miles - It was important for me to be able do an ultra and then get right back out on my legs the next day. I felt really good this day considering I was running on the roads and I was still having pain in my cuboid bone in my left foot. My legs felt pretty good though and I knew I could have gone for more miles had I had the time.
Wednesday, 9/29
Day off, but not on purpose. I intended to run about 20 miles and was going to do it at night, but by the time it came around I was just too hammered from work, family, and scouts to get out. Knowing I had Thursday and Friday off I decided to just go to bed and rest.
Thursday, 9/30
13.5 miles - I chose to run on the Bonneville Shoreline Trail downtown since there weren't any real big hills and I could run with a single water bottle. Leaving at 10:30am it was still quite cool, but quickly heated up and the run became tougher and tougher as I continued on. I had to bow out a bit early due to the heat and lack of fueling, but I still managed to get a peak in (2 actually, the Avenue Twins) and put in some steady miles.
Friday, 10/1
No running, just an awesome day with my family. My cuboid was killing me this day.
Saturday, 10/2
15.8 miles - My friend Eric and I attempted to run the first half of the Squaw Peak 50 course, but as expected, we ran into issues with the trail. We parked my car at the bottom of Hobble Creek and then drove back to Bridal Veil Falls in Provo canyon. Parking there we started across the bridge and ran the .2 mile down to the Bonneville Shoreline Trail and headed up. According to the directions online (which must be very old) we were supposed to turn off the BST after less than a mile onto a service road and then catch a pipeline trail up to another road and across to a trail that leads into Hope Campground. Well, we found the service road (hurray) and it did turn into a pipeline trail. Unfortunately, that trail was TOTAL CRAP!. There were wires crossing it, a slot through two cliffs, and then narrow trail on treacherously steep hillside. And guess where it deposited us? Yep, right back on the BST. Wasted time. When we got to the Squaw Peak dirt road the directions were even less clear and we ended up going up into the archery range and running around there like weirdos for a while before giving up and going back down to the BST. We thought after getting back on it that there might be a branch off trail, but nothing looked definitive enough for us to try as we were already pretty frustrated and had wasted a lot of time. So we continued on. As we did so we passed two guys on horseback and said hello and then just decided to continue to the paved road.
Once on that we ran up it until a half mile or so before the T where we caught a steep trail up to the right that put us on the ridge and a gorgeous overview of Utah Valley. From there we took that all the way up to near the paved overlook. We then decided to run the dirt road past Hope Campground and up to Rock Canyon Pass and decide what to do from there. We were now about 3 miles over where we should have been and I was getting tired from a big week. I also wasn't fueling properly and after turning off the dirt road onto a trail really lost my energy and had to walk. I pumped another gel in me and then met up with Eric at another look-out, surprisingly back on course. We followed that another mile or so until we hit the Squaw Peak overlook. Almost immediately here came our two boys on horseback again, but this time from the west. Huh? We questioned them on where they had come from and they explained the trail they came up. Amazingly, it was the Squaw Peak course trail that we had missed. I was still not quite over my mini-bonk and we were more than an hour behind schedule so we just decided to go where the horsey guys went and summit Buffalo Hump peak (yeah, that's right, we humped the buffalo) and then head back on the appropriate trail. I immediately felt better as we descended and we had fun cruising the correct trail into Hope Campground. The forest service has been up there 'chaining' and it knocked out almost a half mile of the course above the camp ground. We found it again though and didn't have any problems the rest of the way down.
I thought my legs would be more hammered than they were. I could feel it on the latter climbs we did, but I was solid on the flats and downhills. Eric pressed his very casual pace of nearly 7 min/miles the last three, but I was able to keep up and still hold a conversation. Not too bad after a 60+ mile week. We now know where we are going and will head back to try our hand at the front half of the course again. While we didn't get all the way across to Hobble Creek, it was still a lot of fun and a great time with a good friend.
Weekly Total - 66.45 miles
Here are some photos of the Squaw Peak run. It's really beautiful out right now.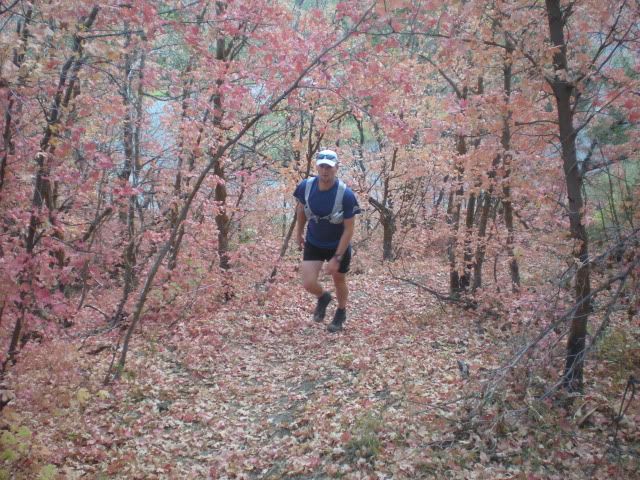 Taking a cut-off trail above the paved Squaw Peak Rd.
Eric running through scrub oak and aspens.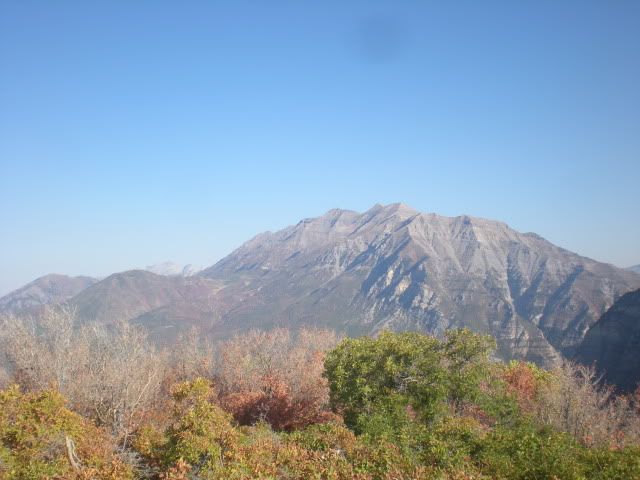 Looking back at Mt Timpanogos, my favorite mountain in the Wasatch.