My mom called me a couple of months ago and said "you're running the Red Mountain 50k in April, I just signed you up". "Uh, Ok", I said. She was running the 30k along with her friend Dianna and my brother Brent (who was running his first 30k). Fast forward to this weekend.
We arrived in St George on Friday evening and partook of my mom and Dianna's time-honored tradition of eating at Outback Steakhouse. My friend Kameron and his wife Kim joined us and we had a wonderful time. We then settled in for what would be a fairly sleepless night in a quaint little motel on the BLVD. I was up at 3:50am and my ride was there by 4:15. We were on the bus and on our way to the start by 5:10. I was very tired. It was not a jovial ride and everyone was pretty somber. We all had received an email the night before letting us now that a potential runner, Thayne Hansen had died in a tragic accident earlier in the week. We were all given blue ribbons (blue was his favorite color) to wear and his wife was in attendance and we had a balloon release ceremony before the race began. Thayne's best friend Shane would be running in his honor and wear his number. It was a very moving moment prior to the start and I was honored to be there.
I'm pretty good about not going out too fast. I settled into my very comfortable pace,one I had no idea how fast it was because I couldn't see my watch. The first 10 miles have about 1200 ft of vertical spaced over 3 main climbs. I wasn't feeling super awesome in the first 6 miles, but a stop at the 2nd aid station and a chat with one of the RDs really got me pumped up and I found my stride after that. I was in 3rd at this position (something I wasn't going after, I was just running the pace that felt comfortable). First and second were miles ahead (I thought) and 4th was nowhere in sight behind me. I loved those big climbs and ran every step. At mile 12 you hit pavement and then have to run 18 miles of mostly downhill, calf and quad-pounding blacktop, something I am NOT good at.
My focus in this race was to hope my fitness would carry me in the mid 7 min/mile range to 26 miles. I figured if I could hit the marathon mark by 3:20 (which would be a new PR for me, btw) I would have a chance of going under 4 hours for the 50k. As I came around a corner at about mile 18, there off in the distance, was my mom, Dianna, and low and behold Leslie Peterson (possibly the cutest redhead on the planet). I stopped long enough to give some hugs then was off again. They mentioned 2nd place wasn't far ahead - how could that be? As I turned another corner at mile 19 there, in fact, was 2nd place (Zach) at the aid station. He left before I got there, but I was on his heels. He was moving pretty well (around a 7:20 mm) but I could tell he was hurting. Just after mile 20 he stopped and then started again. As I passed I asked how he was doing and he said his hip was killing him. I told him to get it under control and then come back and pass me again. I was now solidly in 2nd.
As I hit the marathon distance at 3:23 (so close) I knew I'd have to push hard to get under 4 hours, but it just wasn't there. I don't train for this kind of stuff and was pleasantly surprised to find that I had the fitness to run as fast as I did to mile 26, the last 5 miles would be all mental. I was getting lots of encouragement from the 30k runners I was passing, along with aid station workers who were amazing. I continued to push, but at the 25 mile aid station I must have dropped my salt pills because when I went to grab one at 27 there were none to be found. I bummed one off a guy at the mile 28 aid station, but it was nearly too late. By mile 30 my calves were cramping. Luckily, I had two final big climbs which re-engaged my calves and by the time I hit the top the salt pill had kicked in. I was able to surge the last mile, even while at my limit, and crossed the finish in 4:02:02. As I crossed the line I collapsed on the grass, then got got up and hugged my brother (who ran 2:36 in the 30k, taking 10th).
I shocked even myself that I could go that fast. On a cooler day and having run the course before I think I could knock another 10 min or so off. Maybe next year. Hanging out at the finish waiting for my mom and friends was a real treat. I talked a lot with the RD, my UltrAspire peeps, and Zach, who eventually took 3rd about 15 min after me. Then, out of the blue some guy pulled me aside and interviewed me for a new online magazine. Uh, I really didn't think I was worthy of being interviewed. It was pretty cool though. My mom and Dianna crossed the line an hour and a half after I finished, we then all went to Dianna's cousins, got cleaned up and drove the 4+ hours home. What a great weekend.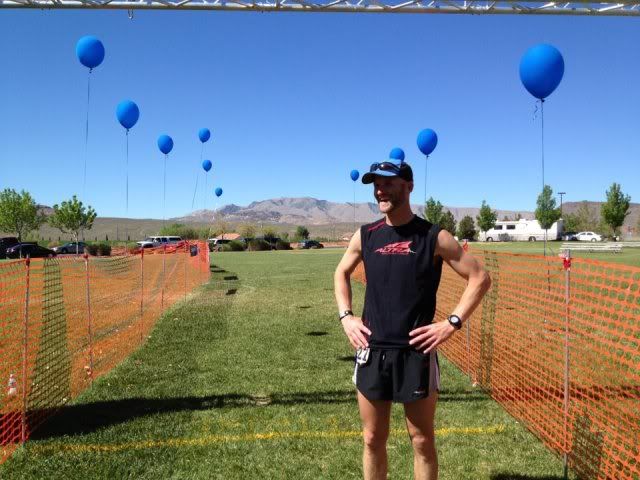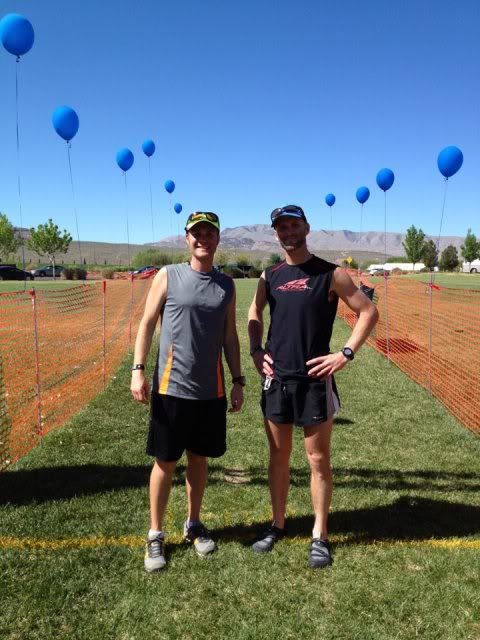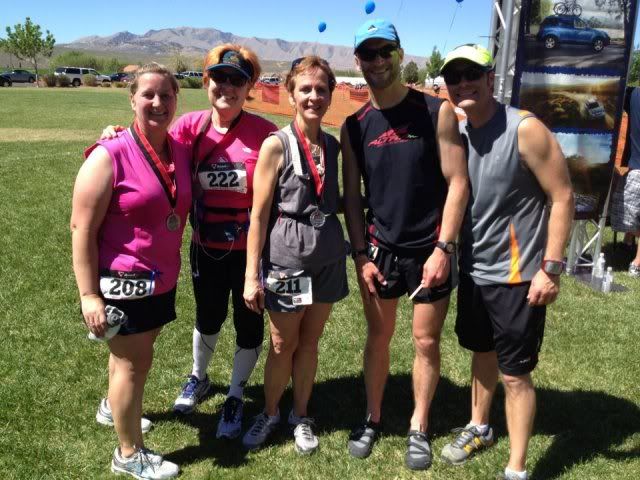 Dianna, Leslie, Mary Kay, me, Brent