Today marked the last group run held out on Antelope Island before the race on March 26th. Between the four races offered approximately 750 people will toe the line ready to test themselves on the challenging terrain. I would say that at least 100 of them were out there today.
I met several friends at the gate, including Kelli and Scott, JD, Dan, Matt Williams and
Brian Beckstead
(co-founder of
Altra
Shoes). We met at 9am, a full hour behind Jim Skagg's scheduled group. However, when we got to the parking lot many of the runners from his group were just coming back from their first loop around the camp ground section. So we immediately saw others, including; Bryce, Jim himself, and
Josh
. We talked for far too long and then finally left. The temps were perfect and I had a goal to just go out nice and easy.
Scott and Kelli around mile 1
Nice and easy never happened. We set a pretty good pace through the first two miles of uphill and cruised the next mile of flat. Then we hit the downhill into White Rock valley and I opened things up to stretch my legs. I had Dan, Matt, and Brian on my heels. Going into Lone Tree hill we passed another several runners, including Karl Meltzer. Normally I walk the Lone Tree hill, but this time I wanted to try and run it. You know what? It wasn't that bad. At the top of the hill is the turn-off to Elephant Head which we were taking. While we waited for everyone we ran into several more runners, including a friend from my training tracking website, Oreo. The runners from that
site
are the coolest group of people EVER. The run out to the point and back was fun. It is so beautiful out there.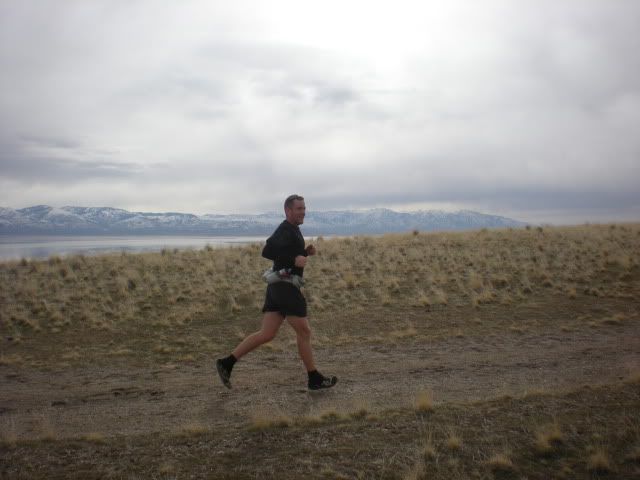 Matt on the flat section above White Rock Valley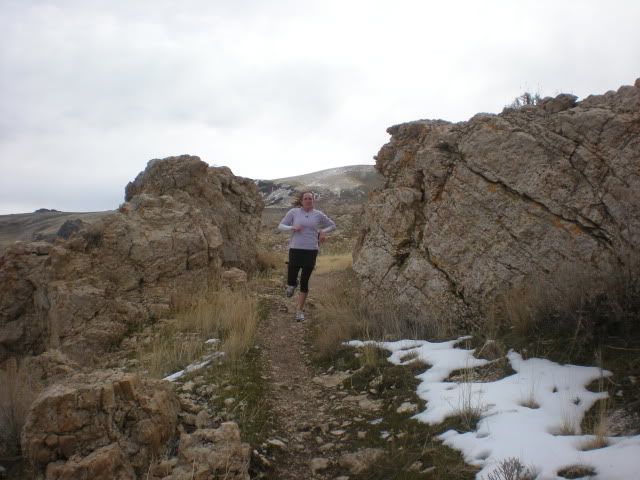 Kelli enjoying the technical Elephant Head out and back.
Back on the main trail we came to the massive downhill. Again, I opened things up and hit a 'best pace' of 4:13. Haha. We pulled back and cruised the rest of it before the switchbacks. We never ran more than a mile without passing other runners. The switchbacks were again great. I love those things. We kept a good pace up, for sure. This time I didn't drop Matt though. He was solid all day. On top we dropped into a comfy pace and just cruised back to the junction. I kept waiting to run into my good friend
Davy Crockett
, but we were always on a different part of the course. I'll have to save the comment I had about Ensure and Depends for him another time.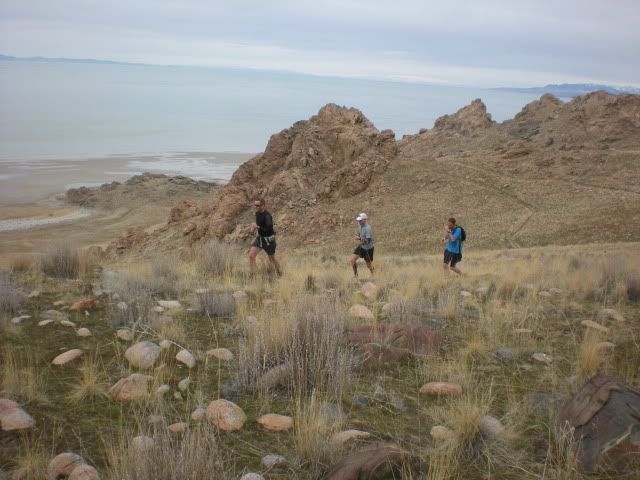 Matt, Brian, and Dan finishing the switchbacks
The last three miles back to the start Dan and Brian really stepped things up, averaging a 7:30 pace on flat and even slightly uphill sections. Amazing. It was hard to keep up, but I did. We got back to the car, mile 18.9 in 2:44:00ish. Fast, much faster then I plan to run it in the race. But I felt good. And then we lingered . . . . and talked . . . . and laughed, as we ran into other runners finishing their day. Unfortunately, we lingered . . . and talked . . . and laughed way too long. So long that when we started running again my fueling was off, I was out of energy and my legs were tight. But still being in the best of company I couldn't complain too much (I definitely did a little). We cruised the back camp ground loop. Once I got over my fuel problems I felt good again, but then I started cramping in my left calf. I thought I was keeping up on my salt, but it mustn't have been enough. I fought it the rest of the way back to the car.
Once back we enjoyed some snacks and a few good laughs and we were off. It was an incredible day and set the perfect stage for my race there in three weeks. I'll have one more good week of training and then taper for two weeks. I've felt very good about this training build and I'm confident that the race will go well. It's also nice to have my weekly mileage back above 50. Now, if I can just get rid of this ankle tendinitis.
A few photos to enjoy.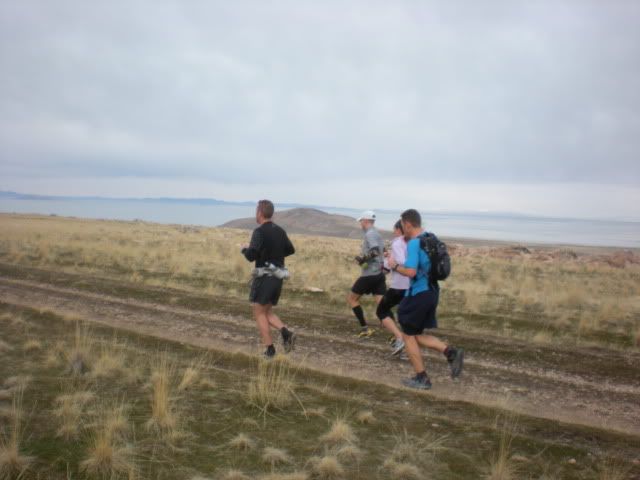 The crew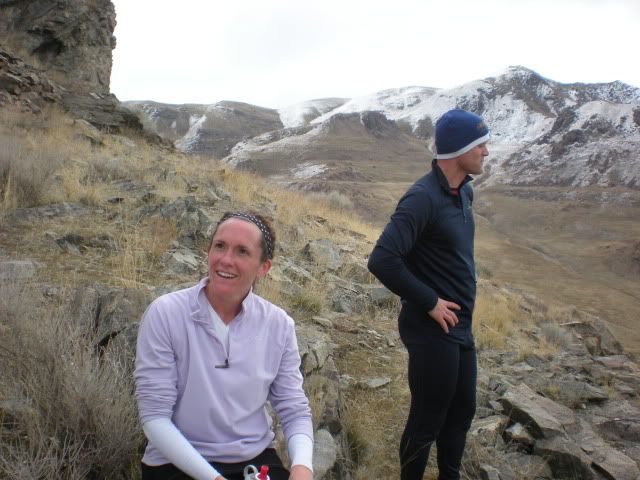 Kelli and Scott at the point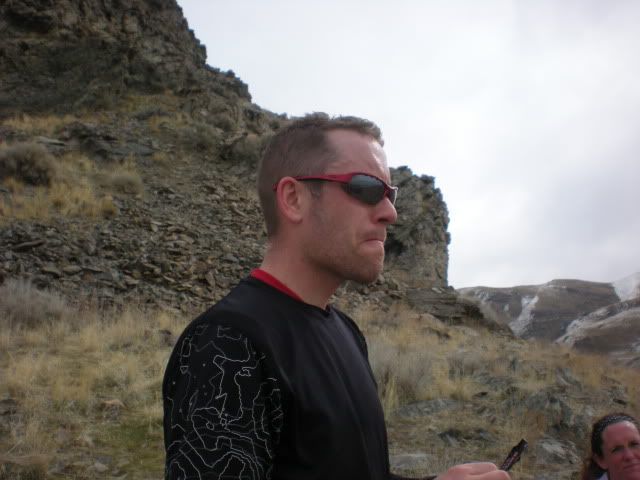 Matt looking smug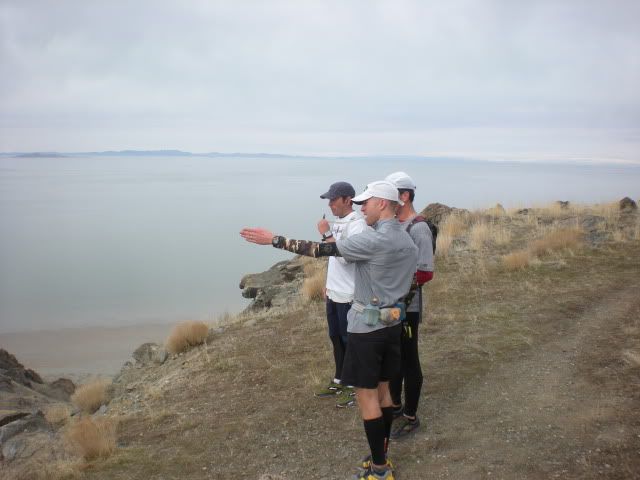 Brian preaching to the choir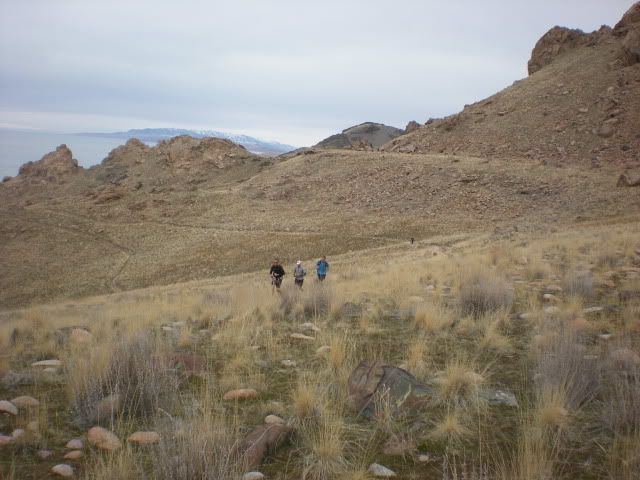 One last look at the switchbacks
And of course, no pics of me. It's really for the best.