I finally got redemption on the South ridge of Mt Superior today. I tried it a few years ago, but was deathly ill and had to back off very early. It was also a winter ascent and the snow conditions were brutal. However, today the weather was perfect and I currently feel awesome.
We started at about 4:45am and just went straight up the hill towards the obvious ridgeline looming above. We all kept in pace and chatted our way up to the technical section. Once there we immediately hopped onto the ridge (you can avoid the ridge for a while, if desired) and enjoyed the exposure. The climbing is pretty casual for a while and while exposed you never really feel any threat. It is easy 4th class climbing with some 3rd class scrambling in between.
Matt VH starting up the more technical section.
Scott cresting one of the easier technical climbs
Things start to get serious once you get to Suicide Chute. After crossing that you climb solid 4th class rock to the more technical knife-edge ridge.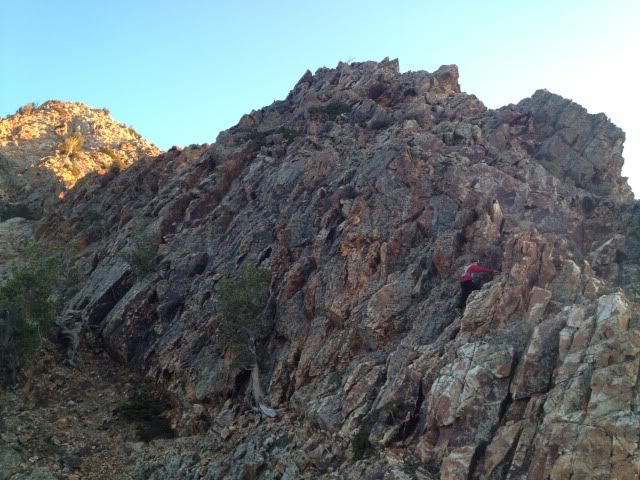 Matt working up the obviously more technical section. Things get a bit more serious after this point.
For every scary technical section there is an obvious and easier bailout opportunity to the right or left (most often left as the cliff isn't as high). For all but one section, the obvious crux, I chose to stay along the ridge. In one spot I was making easy 5th class rock climbing moves over a pretty exposed 40 foot cliff that probably would have resulted in serious injury or death had I fallen (don't tell my wife). However, I never felt at risk and was fully in control the whole time. The crux of the whole route is up near the top, just before the rock turns black. I tried to make the extremely scary and exposed move over the bulge (probably 5.7 for any rock climbers reading this), but just didn't feel comfortable after the second move, so I backed off and traversed around. I don't feel bad for bailing out, it is a serious section and not worth the risk at any time.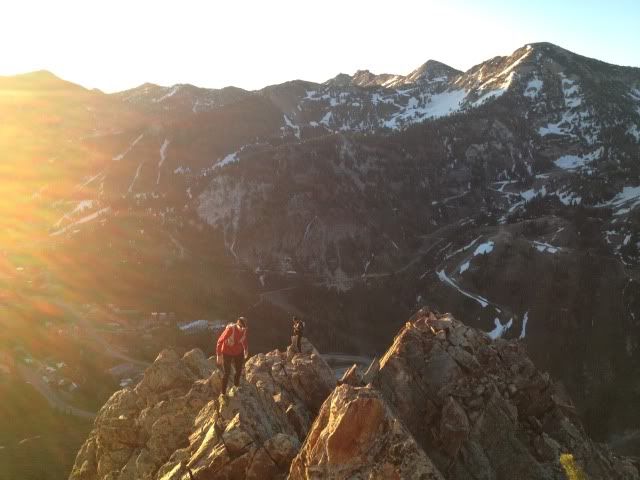 The much slower and more technical section. You don't want to fall here.
The easier of the two cruxes. I didn't bail out on this one.
Matt VH right after the crux of the whole route. The part he is on here is not as bad as it looks.
Scott was a little slower at this point while Matt and I were making good time. After the final crux we cruised quickly to the top, hitting the summit in 2:20:33. I think if I was really pushing it I could get there in about 1:30:00 or so.
The kid is super psyched to be on top.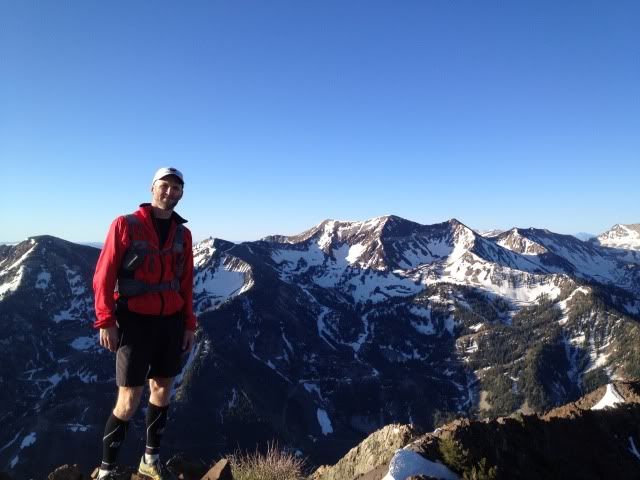 Yay for me. Finally, someone took a photo of me. Ha.
While Matt and I waited for Scott we contemplated and felt drawn to try and bag Monte Cristo, which is a slightly higher peak just to the west of Superior. We knew we could get there and back in about 15 minutes, but would we be making Scott wait? We didn't know. We couldn't see him on the ridge horizon so we decided to go for it. In the picture below you can see Monte Cristo behind me and why we had to go tag it. I mean, come on, look at how inviting it is.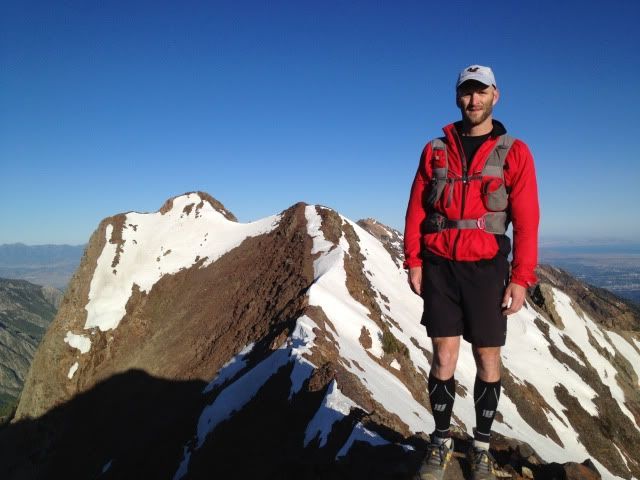 We really pushed the pace across the narrow ridge and snowfields. We got over there in just over six minutes and back in about 5 and a half. Awesome. In fact, I even beat Scott. Matt was only a minute after me as he stopped to take in his surroundings.
Matt running the snowfield down from Monte Cristo
Scott summiting Superior
The way down is not a gimme. You have some really technical ridge running, followed by a nasty 500 ft drop down a scree slop. Then up and over a small knoll to get to Cardiff Pass. Once you hit that though you can fly back down to the road. The last mile of road is fast and Matt and I flew down in a sub-6:30 pace. In the pic below you can see the South ridge of Superior just over Matt's right shoulder, showing the entire route we took to the top. This was definitely the best route I've done in the Wasatch and I can't wait to go back and do it again. Unfortunately, there are so many other mountains I want to run/climb that it might have to wait a few weeks. What an awesome morning.