I had a great morning running with 'the boys' - Matt, Bryce, and Scott. The three of us drove up to So Ogden and met Bryce at the trailhead. I had just gotten my new MT101s in the mail yesterday and was eager to try them out. Last night the 11.5 felt a little large, even though in the store they felt perfect. I guess my running socks weren't as thick as my work socks. So this morning I put on a little thicker pair of trail socks. Still not good enough, but we'll get to that.
From the start it is a gorgeous trail up awesome single track to Malan's Peak. After about a mile it gets really steep and I slowed to a power hike while Bryce continued to climb. This is about what I expected. Bryce hit the summit first, followed by me, then Matt and finally Scott. I hit the peak in 41:30. Bryce said that was pretty fast, but I felt like I was really slow. I was definitely not in good form today. Just not feeling it. The overlook was amazing, however. We hung out on top long enough to chat and take in the sights and wait for it to get light enough to run down without our headlamps.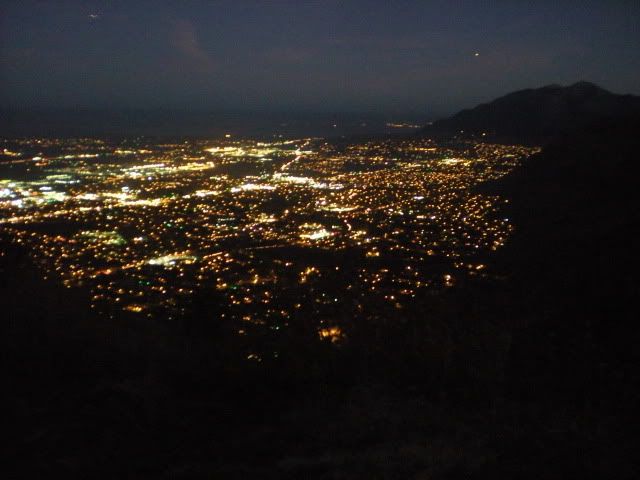 Ogden from the summit of Malan Peak
Scott and Matt on top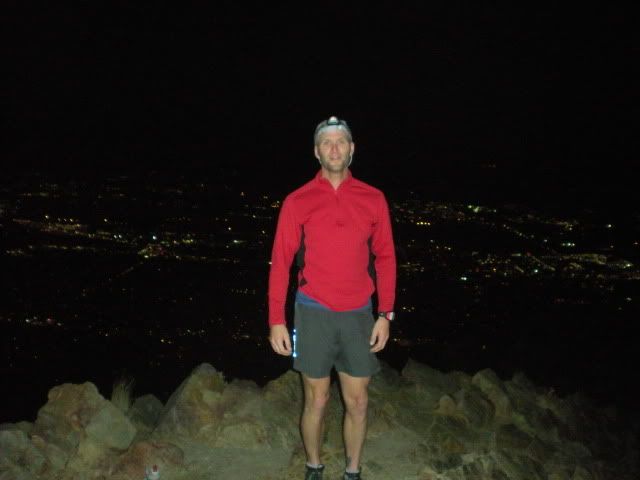 Me, of course
Bryce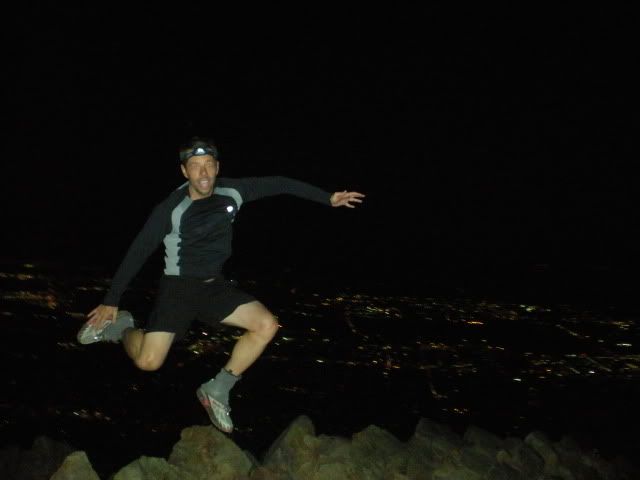 Of course there was a peak jump
I flew down the trail. It was hard to keep my legs moving fast enough at parts. I was not happy with what my shoes were doing though. I felt like I was swimming in them. However, my heel never came up and my toes weren't crushing against the front. The trail was wicked-steep though, so between not having on good socks and the trail I think both contributed to a bad experience. I'm not going to blame the shoes. The rock plate in these things is amazing. I rarely ever felt a rock, something I can't say about my Inov-8s. I'll have to try my next run in better socks (Darn Tough vs Bolega - what I wore today). Biggest lesson learned is to just buy a size 11 next time. They just felt so small when I had them on in the store. Maybe I'll feel better about things when I get on better socks. I certainly can't send the shoes back after today's run. Ha.
Bryce and Matt near the bottom
Anyway, it was an awesome day and I loved running with the guys. I think we are going to head back up on Monday/Tuesday to try and do Ben Lomond, which should be amazing.