Several weeks ago I went running with my friend Eric in the hills east of Provo, following the Squaw Peak course. With Timp as our background we talked of running the trails on and around that mountain. I mentioned that I don't think I'd be interested in running any trails on Timp that didn't involve me hitting the summit. But then last week Eric ran a loop route on the front that he absolutely fell in love with. He mentioned it in his report and challenged me to come out and try it. He was confident it wouldn't disappoint. He couldn't have been more right.
We met this morning at 7:30am at the Grove Creek trail head and headed out north on the Bonneville Shoreline Trail. Even that section of trail was nice; 4 miles of perfect single track to about a mile of dirt road where we stopped at the mouth of Dry Creek for a quick bathroom break and then up the canyon. I was having trouble with my breathing, but even after my tough run up Malan's yesterday I was surprised how well my legs felt. Eric told me that the next three miles would be a steady climb up Dry Canyon, but that it was all runnable and beautiful. I had no idea just how incredible it would be. Unfortunately, one of the set-backs of Pony Express has been that my recovery after even a normal run has been slow and the climb quickly took it's toll on me. Within a mile I found myself walking periodically. My legs were heavy and my quads really suffered yesterday. Six miles into our run and I was tired. At mile 7 you come to a bench on the edge of a cliff that looks over an amazing waterfall. The views out over Utah Valley were incredible and even with my tired legs I couldn't have been more content to be running in such a beautiful setting.
Our run began with a beautiful sunrise
About a half mile up Dry Creek, after the first switchback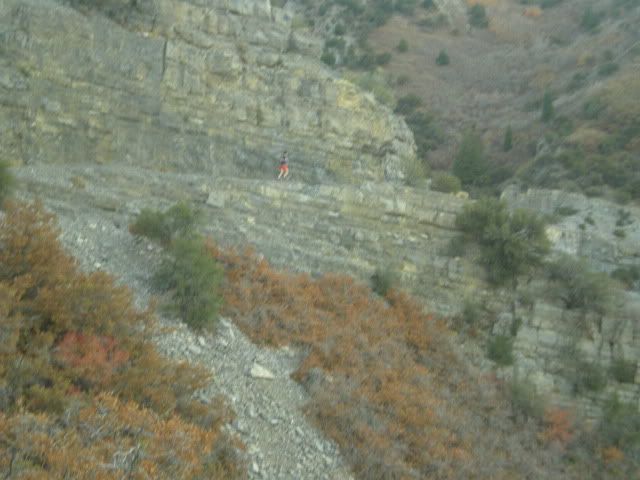 Eric running along a cool cliff line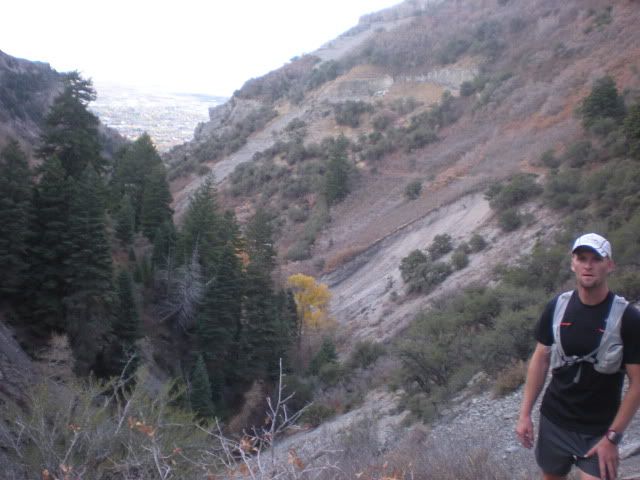 At the bench looking back at our route up Dry Creek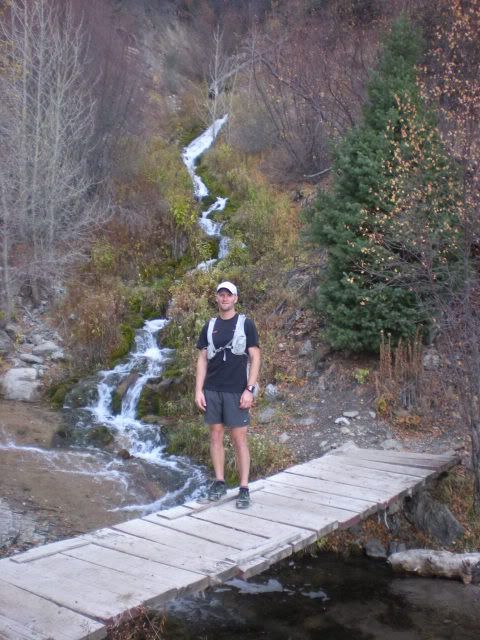 Above the big waterfall with a small one behind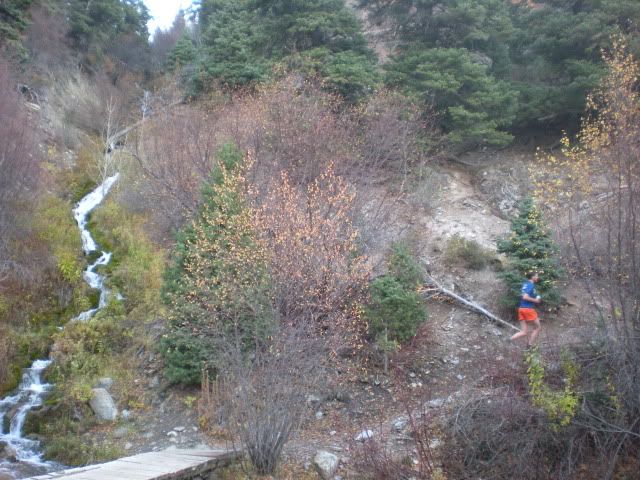 Does it honestly get any better?
Another mile past the waterfall we were up at Dry Creek campground. I really struggled that last mile, hiking more than running. I was really mad at myself because the trail was all runnable and on any normal week I would have cruised right up it. And I was holding Eric back, which also bothered me (I doubt he cared, but that's not how my psyche works). Once you hit the campground the trail rolls up and over a small pass and then you get to cruise through amazing meadows on your way to Big Baldy Pass. I can't even put into words how beautiful it is up there. So I won't.
Yeah, it was that cool.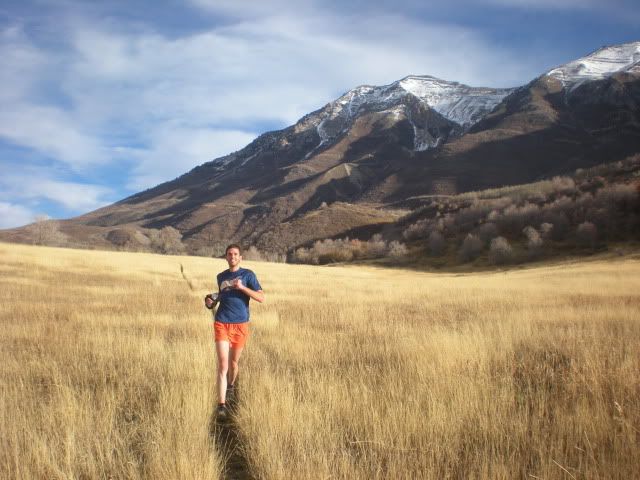 Possibly the best running pic I've ever taken
After you run through the meadows you then have a very easy, steady climb of about 1000 feet up to Big Baldy Pass. It is a series of switchbacks that slowly climbs up to the pass. I made the mistake of looking at the actual time on my watch and realized that I was going to be really late getting home and that got to me even more. I was struggling just putting one foot in front of the other. It wasn't about fueling or energy, I had been fueling fine the whole run. I just didn't have anything in my legs. I don't think I've ever felt like that before in a run. Ever. But again, the views were pretty dang good.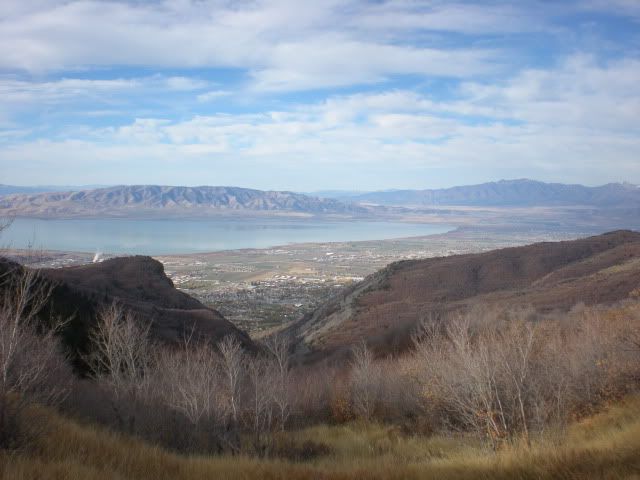 On the way up to Big Baldy Pass
At the top of Big Baldy Pass we were at mile 11.5 (about), which meant we had about 2.5 miles of wicked-steep downhill, then another mile to the base of the canyon and another 1.5 miles back on the BST to the finish. I could do that. Eric mentioned to me that these first couple of miles were really steep and in a 'trough', but wow, I certainly didn't realize how steep and deep it was. The trail/trough was a good 3 feet deep with grass growing over the top, so you couldn't even see your feet. And the horses had chopped up the trail enough that it made foot placements tricky. I was wearing my new New Balance MT101s and was glad I had put on thicker socks. They were working very well.
We made good time down the steep stuff and then opened it up on the lower angled downhill to the bottom, laughing and talking the whole way. The last cruiser mile and a half back to the car was pretty good and I felt remarkably better than I thought. Don't get me wrong, my legs were TRASHED, but I was still able to keep a moderate pace. As soon as we got back to the car I called my wife and apologized. I would be more than an hour late getting home. Luckily, she is extremely understanding. I couldn't ask for a better wife.
After talking with Eric I've resigned myself to the fact that even though I've had some good runs in the last couple of weeks that I am just not recovered from my 100 miler. It will definitely be in my best interest to take the next week off, which I plan to do. I need my legs to recover. I still have to run an ultra this month and I'd like it to be the Grand Canyon. Not sure if I can work it out logistically, but I want to try and I need to make sure my legs are up for it. I'm sure they will be. Below is a 3D map of our route and the statistics summary. Note the 4600+ feet of vert we had. Pretty monster for a run that long. Even with the trouble in my legs and the holding Eric back part I can't say enough about how cool that run was. Without a doubt one of my most favorite trails I've ever run. I can't wait to do it again. Hopefully, the weather will hold until I can try. If not, I'll be on it first thing next Spring.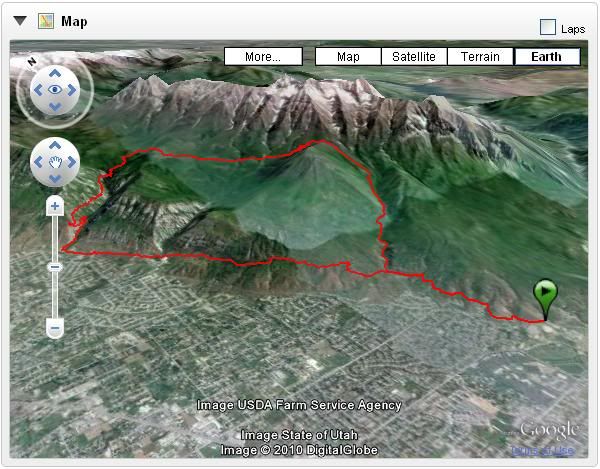 With Timp as a constant background, what could go wrong?