By Scott Wesemann
I have been keeping track on my total mountain ascents for a few years now and 2012 was by far the best year that I have ever had with a total of 116 peaks climbed during the year. Most of these ascents were done early in the morning before work and I never regretted getting up a single time. I had some incredible experiences with great friends, saw some sweet sunrises, had a lot of laughs and I enjoyed every second. Here are some of the highlights from the year.
The best peak- This would have to be Gilbert Peak, the third highest peak in Utah. It would be my third time on the summit of this giant, but the best and most satisfying was tagging it the same day as I hit King's and South King's, the highest two peaks in the state with Josh, which gave us the coveted Triple Crown (Highest 3 peaks in Utah) in one day.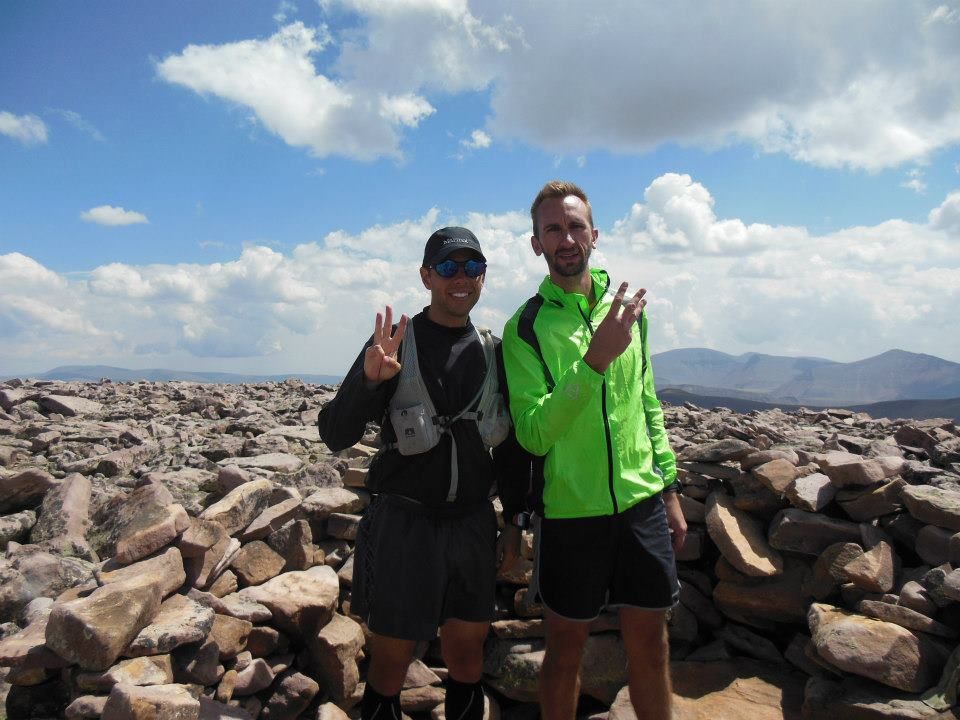 Josh and I finishing the Triple Crown on Gilbert
The worst peak- I will go ahead and tag Gilbert Peak with this honor as well for taunting me relentlessly while I slogged up her massive boulder ridden west face trying to get the Triple Crown. I guess karma came back to bite me pretty good after I had spent the previous month and a half telling anyone that would listen how horrible Gilbert was. I said some nasty things about ol' Gil, so it shouldn't have been a surprise to me that I was smacked in the face repeatedly by a horrendous wind as I completed the tedious task of navigating the loose boulder pile to the top with Josh. It was without question the worst ascent of the year.
Biggest pucker factor peak- Mount Superior via the South Ridge is a classic Wasatch mountaineering route and I completed the route for the second time with MVH and Craig back in June. This long exposed knife edge is some of the best scrambling in the entire Wasatch and we had a blast on the route. Check out this cool video that Matt made of our climb. South Ridge
Peak with the best running route- I'll give the nod to Mt. Timpanogos from the Timpanookee trailhead. I was lucky enough to run this route 3 times in 2012 and each time I finished with a gigantic smile on my face. The views are unmatched, the route is 100% runnable and when you run it you get treated like a rock star by the hordes of hikers that can't believe someone could actually 'run' to the top. I had a personal best round trip time of 3:15 and just over 2:00 to the top this year.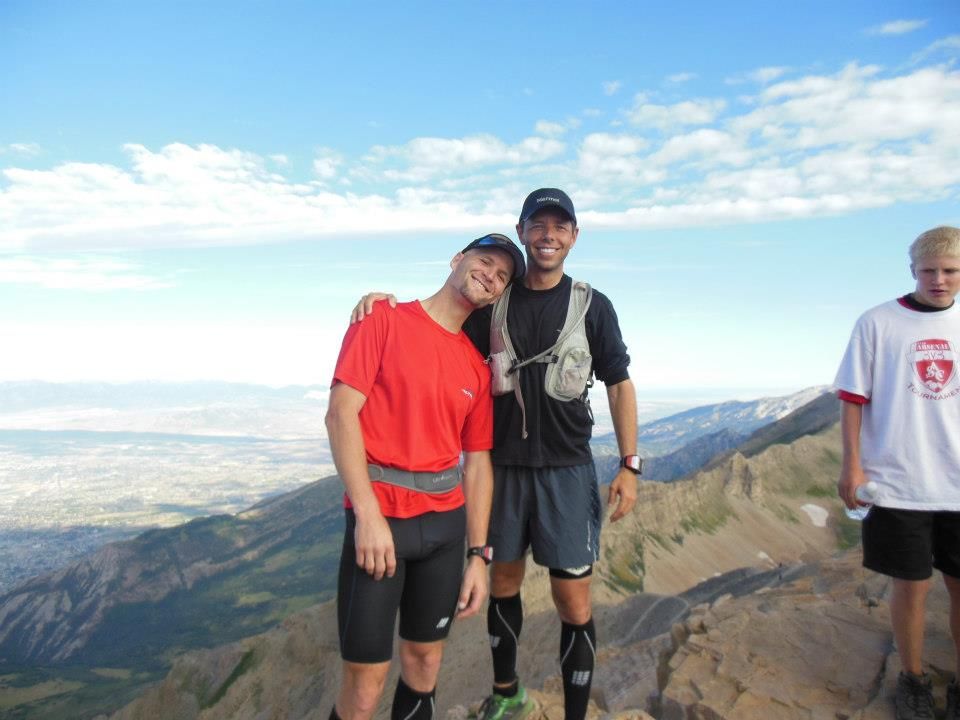 Craig and I on the summit of Timp
The best new peak climbed- I'm going to go with South King's Peak because it has been on my list for about 15 years. South King's is a 30-45 minute scramble from the top of Utah's highest point, King's Peak, so I'm ashamed to admit that it was my first time to the summit since the Triple Crown did mark my 10th time to the summit of King's. In my defense nearly every time I've been on top of King's I've either been barfing or seriously considering it due to my inability to deal with the high altitude.
My treadmill peak in 2012- There isn't even a question that this title is going to go to View Benchmark. I didn't discover this little gem until I found it on Summitpost a few years ago. VB is the highest point above Suncrest and actually has one of the best views of any summit in the Wasatch. Nearly all of my trips to the top were made from the local Draper trails and had between 1600-2000 vert with 8-10 miles andVB was part of my weekly routine for most of the year in 2012.
Worst weather peak- On Boxing Day we had a group run to the summit of Lake Mountain in a blizzard. It was snowing the entire run/hike/slog and we had to break trail in deep snow while getting hammered by a strong wind. Even though the weather pounded us mercilessly we were laughing and smiling nearly the whole way. I did a solo up View Benckmark during another storm in December that was a close second.
Most peaks in a day- I only counted it as 4 peaks, but the crew (Craig, Josh, Mark K.) did an early morning run tagging Sugarloaf, Baldy, Hidden, American fork Twins and Red Stack. Not only was it the most peaks I did in a day in 2012, but it was one of the best runs with a ton of laughs and killer views. The best part was the ridge scramble from Hidden Peak to the East Twin. Awesome.
Craig negotiating the knife edge on the East American Fork Twin.
Best wildlife encounter peak- Seeing a cougar during the Wasatch 100 was far and away the best wildlife encounter of the year, but I wasn't running up a peak, so I'll go with nearly stepping on a rattle snake while running down from the top of Saddleback Mountain in Logan back in June. I was rocking out to some early eighties tunes on my iPod when I saw the snake rise up in a striking position. I quickly put on the brakes just in time. Talk about an adrenaline rush
I'm really looking forward to 2013 and I'm psyched for the adventure runs and summits that are in the works with the crew. Stay tuned.